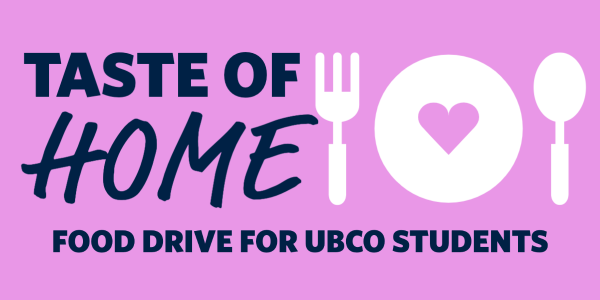 Did you know that nearly 43% of post-secondary students in Canada are food insecure? Added to that, many students who live on campus are far from home and do not have access to the groceries they need to prepare a meal that reminds them of home.
The Student Union and UBC Okanagan Library are collaborating on a food drive to help stock the shelves of The Pantry student food bank with items that better suit our diverse campus community. Taste of Home Food Drive encourages UBCO staff, faculty, and students to donate unique and nutritious items to ensure that students in need have more than just Mr. Noodles to choose from.
Help give UBCO Students a Taste of Home. Donations will be collected on the main floor of the UBC Okanagan Library from November 15 to December 15.  
Some suggested items:

Rice
Couscous

Quinoa

Millet
Dried Lentils
Dried Black beans
Dried Kidney beans
Dried Chick peas
Poi
Noodles
Miso paste
Tofu
Flat bread
Roti

Mango
Plantains
Beetroot
Corn
Baby corn
Bok choy
Snow peas
Dates
Almonds
Kimchi
Taro
Cassava/Manioc
Cassava leaves

Spices and Sauces:


Seasoning Pre-Mix Packs
Some examples: Tikka, Biryani, Korma, Haleem

Saffron
Turmeric
Cumin
Nutmeg
Chili Powder
Coriander
Cardamom
Ginger
Soy sauce
Sesame oil
Garlic
*when possible, items should be obtained in small portions, or can be repackaged in smaller portions to accommodate student use.

Can't bring items but still want to help?
Monetary donations for the Pantry are accepted at GreenText bookstore in UNC 103.
Other ways you can contribute:
Support for UBCO Students through Global Engagement Office
If you find yourself making the tough choice between paying bills and buying groceries, you may be experiencing food insecurity. It's okay to ask for help, and it is important that you know you are not alone. Food security is a crucial component to student wellbeing. Support is available from your UBC community. If you would benefit from food security support, please access any of GEO´s Food Community Program initiatives:
GEO´s FOOD COMMUNITY
Located at UNC 227A, GEO´s Food Community welcomes international students to pick up/serve themselves nutritious and non-perishable food items.
GROCERY GIFT CARDS
President's Choice Gift Cards are available upon request. To request a gift card, complete a confidential form.
Learn more 
Food Security is a major public health issue. Learn what UBC is doing to address food insecurity.