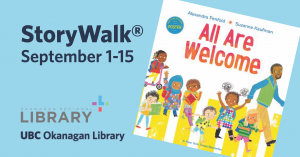 UBC Okanagan Library has partnered with Okanagan Regional Library to showcase the children's book All Are Welcome by Alexandra Penfold. Pages of this book will be displayed near the buildings surrounding The Commons Field while you take a walk around campus. The story will be available to read from September 1-15, 2022.
Start your walk at the top of the stairs behind the Nechako building.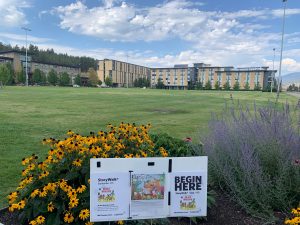 Did you know that you can visit the Okanagan Regional Library on the first floor of the UBC Okanagan Library? Click the link below to learn more!
_________
The StoryWalk® Project was created by Anne Ferguson of Montpelier, VT and developed in collaboration with the Vermont Bicycle & Pedestrian Coalition and the Kellogg Hubbard Library.