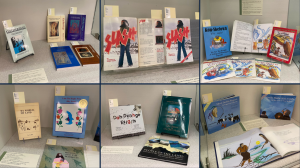 For Honouring Indigenous Writers (March 1-31), UBC Okanagan Library Special Collections is pleased to present an exhibition featuring the publications of Theytus Books. These books, having an essential tie to the Okanagan, provide a reflection of place that is valuable to our campus and communities.
Founded in 1980, Theytus Books is the first, and oldest, Indigenous publishing house in Canada. It operates in partnership with the En'owkin Centre on Syilx territory on the Penticton Indian Reserve. Frequently lauded for its focus on the authentic expression of Indigenous voices in print, Theytus has brought the writing, dialogue, and art of a multitude of Indigenous authors to the public. Many of these authors are local to the Okanagan.
The exhibition is staged in the Okanagan Special Collections Corbishley Family Reading Room, located on the lower floor of the Commons adjacent to the D. Ross Fitzpatrick Great Hall. From the Hall, highlights of the exhibition can be seen in our glass display cases. Students, faculty, and all members of the larger community are invited to enter the reading room to see a more detailed "loop" of exhibits featuring the striking visuals and compelling texts put forth by Theytus Books.
Okanagan Special Collections is open for walk-ins from Monday to Friday at 10 am to 3 pm or at other times by appointment.