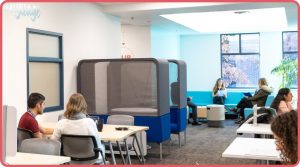 Written by Mihai Covaser, Writing Consultant at the Student Learning Hub
So, you're thinking about reaching out for some support on an assignment or course concept. Great! There's just one important question: what exactly can the Student Learning Hub (SLH) do for you? Perhaps more importantly, what can the SLH not do?
Many of the students that come to the SLH have questions about writing at university. Academic writing can be a complex undertaking with many components to understand and perform correctly. Luckily, our Writing Consultants (WCs) are here to provide free writing support to help you sharpen your drafting, writing, and revising skills. This may mean tackling big issues like paper structure, theses, or flow. It could also include more focused advice like word choice and grammar tips, transitions, and sentence structure.
The SLH welcomes any writing assignment you might want to work on, from the half-finished to the nearly polished. Bring your lab report outline, your skeleton for an argumentative philosophy essay, or your fully drafted literature review, and a WC will be happy to offer the advice and cultivate the skills you need to improve that piece and future work!
It may seem like we do it all here at the SLH, but it is important to note some components that the WCs do not cover. One example is citations. This includes formatting in different styles, both in-text and bibliographically. Although these are not dealt with at the SLH, the WCs will still support you with integrating citations and paraphrasing. Moreover, they can connect you with a librarian for citation formatting help.
Lastly, if you have a take home exam or test prompt, a WC can't help you directly with the test, but don't worry; they can still help you prepare! A WC can walk you through essay exam writing strategies, general structure for essay exams, and even practice with a different prompt!
At the heart of it, writing support at SLH is meant to equip you with the tools and knowledge you need to become a better written communicator at the university level. We strive to provide a safe, comfortable space for you to explore your voice and hone applicable skills for powerful writing.
For more information about all of the learning supports you can find at the SLH please visit https://students.ok.ubc.ca/academic-success/learning-hub/.