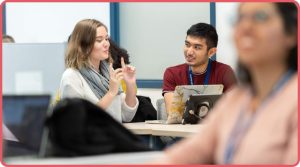 Written by Marissa Thompson, Writing Consultant at the Student Learning Hub
Do you ever find yourself sitting in front of a blank page with an ever-blinking cursor and a daunting due date, wondering, "Where do I even begin?". Or maybe you are finding it difficult to get even that far. Are you ever just about to hit submit but begin second-guessing whether your paper covers every criteria point? Or maybe you are simply wondering if your argument makes any sense at all.
If you are ever in a similar position, visit the Student Learning Hub (SLH). We have friendly (and free) writing consultants who can help you figure out the next step, or if that argument makes sense. It can be daunting to book a one-on-one appointment with a tutor, so we want to erase the mystery by offering a glimpse of what to expect during a writing appointment at the SLH.
Before your appointment, you will fill out the basics of the assignment and your concerns, questions, or challenges in the appointment form.
When you arrive, you will check in with the front desk where you will either be directed to your consultant or asked to take a seat on the blue couch.
During your appointment, your consultant will provide you with a comfortable environment to practice, ask questions, and get individualized support. This appointment is for YOU so we will ask what YOU want to work on—you are in complete control of where the appointment goes from here.
We encourage you to share any questions or concerns you have about your assignment. Some concepts we might cover in an appointment are academic conversation/speaking practice, grammar, integrating sources, organization, paraphrasing/summarizing/quoting, planning and drafting, revision strategies, thesis statements, understanding assignment expectations, word choice, writers block, and anything else you are concerned or unsure about.
Appointments are 45 minutes long, but they don't need to be. Sometimes, you might only need half the time before you feel ready to go off and work on your paper—that's okay! Our goal is for you to leave the appointment feeling confident about writing on your own and, sometimes, that doesn't take the whole block of time. Before wrapping up, we will give you a five-minute warning, allowing you to ask any last-minute, burning questions you might still have
After your appointment, we will email you a post-appointment summary that will detail some of the concepts we covered, any additional resources, and your "next steps". Then, it is time to get writing!
The writing consultants at the SLH are here for YOU, so come say hi! You can book an appointment on QReserve: https://my.qreserve.com/site/nztru67ihr3rbtchet756juvdt6e90qcypzm5?idp_entity_name=https%3A%2F%2Fauthentication.ubc.ca
Happy writing!