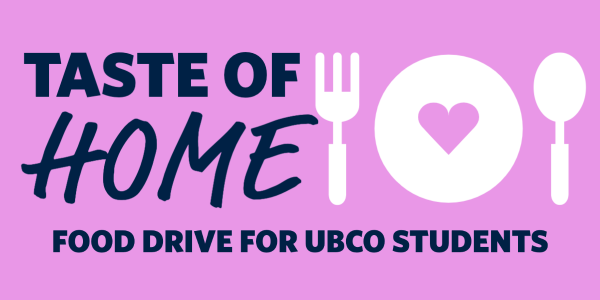 The Student Union, the Global Engagement Office, and UBC Okanagan Library are collaborating on this annual food drive to help stock the shelves of The Pantry student food bank. Taste of Home Food Drive encourages UBCO staff, faculty, and students to donate unique and nutritious items for our diverse campus community.
Help give UBCO Students a Taste of Home. Donations will be collected at UBC Okanagan Library (1st floor) and at Picnic (UNC 1st floor) from November 1 until November 30. 
Suggested items to donate:
Rice
Couscous

Quinoa

Millet
Dried lentils
Dried black beans
Dried kidney beans
Dried chick peas
Poi
Noodles
Miso paste
Tofu
Flat bread
Roti

Mango
Plantains
Beetroot
Corn
Baby corn
Bok choy
Snow peas
Dates
Almonds
Kimchi
Taro
Cassava/Manioc
Cassava leaves

Spices and Sauces:


Seasoning Pre-Mix Packs
Some examples: Tikka, Biryani, Korma, Haleem

Saffron
Turmeric
Cumin
Nutmeg
Chili powder
Coriander
Cardamom
Ginger
Soy sauce
Sesame oil
Garlic
*when possible, items should be obtained in small portions, or can be repackaged in smaller portions to accommodate student use.
Food Map for UBCO Students
The Food Map for UBCO Students highlights various grocery and international food stores within or surrounding Kelowna, BC. Navigate the food map to find the nearest locations to you.
Learn more 
Food Security is a major public health issue. Learn what UBC is doing to address food insecurity.