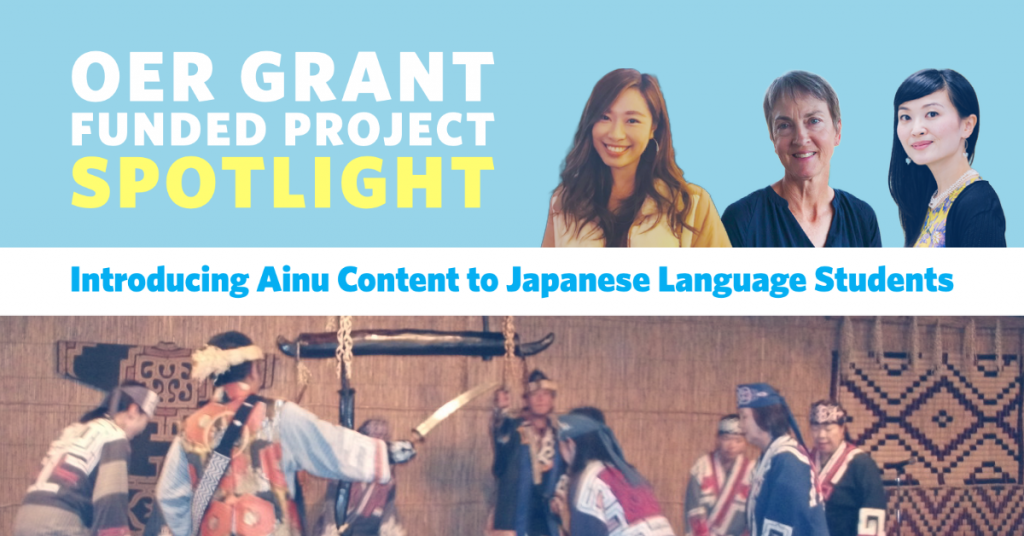 Project title: Introducing Ainu Content to Japanese Language Students
Project Lead:  Nina Langton (UBCO Faculty)
Project team: Mayu Takasaki (UBCO Lecturer) and Saki Irie (UBCO Student)
Background on the Open Educational Resource (OER) project.
The Ainu are the Indigenous people of Japan, but many students of the Japanese language are not aware of their existence. As a way of contributing to the university's commitment to engage in reconciliation by promoting knowledge of Indigenous cultures and histories, the aim of this project is to introduce and deepen students' awareness of Ainu history, culture and oral traditions, both past and present. The OER Grant provides an opportunity to jump-start, in a concrete way, Nina Langton's intention to indigenize the Japanese language curriculum and share those efforts with not only students, but other educators as well.
These materials will include level-appropriate reading selections on Ainu history (particularly since colonization), descriptions of traditional and current culture and lifestyle, as well as interactive learning activities to accompany the readings. Although making culturally sensitive materials using unmediated Ainu voices in challenging, a network of Ainu artists and teachers have been providing some helpful guidance on this project.
Project Impact
These materials will provide the opportunity for students to reflect on both the negative impact of colonialism within Japan and the revitalization of the vibrant Ainu culture. In addition, the goal of this project is for students to gain an awareness of and respect for the diversity of peoples within Japan, instead of seeing contemporary Japan only as a homogeneous culture.
This OER project will include materials adapted and created with Creative Commons Open Licenses so that other Japanese language instructors can use them to add Indigenous content to their own classes.
Advice from the project lead for those considering OERs
Although it may feel a little scary to put something out into the world and not be able to control how someone else might use it, contributing to creative collaboration is very satisfying.
Going through the university guidelines for creating OER materials has made me more aware of the importance of accessibility and the concept of Universal Design, which is not only valuable for this OER project, but for teaching and for creating learning materials in general.
In addition, I've gained greater appreciation for the challenges involved in creating original material and for the benefits of making that material freely available.
Explore more:
Learn more about the Open Educational Resources Grant Program and other grant funded OER project spotlights.