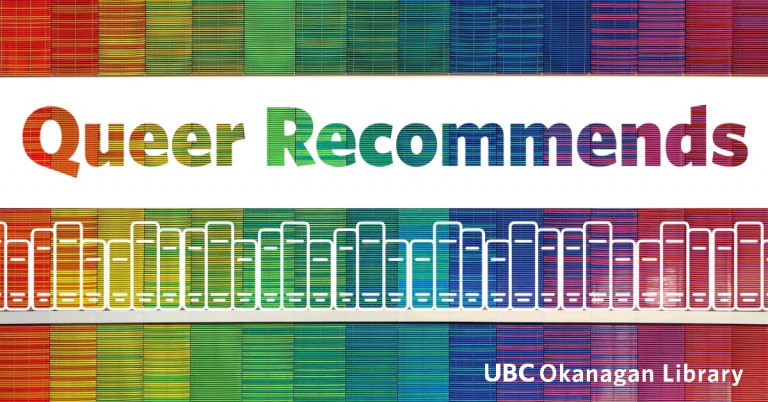 Are there any 2SLGBTQIA+ books, movies, shows, or other resources that you wish were available through the UBC Library? During Queer Orientation we are asking UBCO students, staff, and faculty to recommend their favourite 2SLGBTQIA+ literature, films, and more through our social media channels to help develop our collection. Follow us on Facebook, Twitter, and Instagram and send us your recommendations in a comment, DM, or simply @UBCOLibrary. We'll also be offering some of our favourites from our collection. #UBCOLibraryRecs

Reading Lists
UBCO Librarians have curated several reading lists. Check them out!
2SLGBTQIA+ Reading Lists & Resources
Looking for something that we don't have in our collection? Let us know! We always accept recommendations. Email us: libquestions.ok@ubc.ca

Featured books: 
The Spectacular by Zoe Whittall

Borrow it:
UBC Library – On Order
Okanagan Regional Library – Print, eBook
Review: "Zoe Whittall has this incredible ability to go straight at the honest emotional heart of a story, and yet even with that ferocity, her writing is always graceful, a total joy to read. It makes it so easy to love her characters. In the best books characters feel like my friends, but with the mothers of The Spectacular, they came to feel like my family."
– Torrey Peters, author of Detransition, Baby
You Are Enough: Love poems for the end of the world by Smokii Sumac
Borrow it:
UBC Library – Print
Description: "In this moving collection, Sumac addresses the grief of being an Indigenous person in Canada, shares timely (and sometimes hilarious) musings on consent, sex, and gender, introduces readers to people and places he has loved and learned from, and through it all, helps us all come to know that we are enough, just as we are.
Winner of the 2019 Indigenous Voices Award in Published Poetry in English and short-listed for the 2020 Dayne Ogilvie Prize for LGBTQ Emerging Writers." (From Kegedonce Press​)
Butter Honey Pig Bread by Francesca Ekwuyasi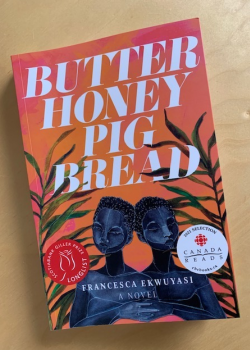 Borrow it:
UBC Library – eBook
Okanagan Regional Library – print, eBook
Description: Butter Honey Pig Bread tells the interconnected stories of three Nigerian women: Kambirinachi and her twin daughters, Kehinde and Taiye. After more than a decade of living apart, Taiye and Kehinde have returned home to Lagos. It is here that the three women must face each other and address the wounds of the past if they are to reconcile and move forward. (Edited from UBC Catalogue)
Review: In this remarkable debut novel, a family of Nigerian women attempt to carefully tiptoe around an unspeakable tragedy. Through masterfully crafted scenes full of sumptuous imagery, readers are moved, just as these characters are, by forces beyond their control, beyond their lifetimes.
-Catherine Hernandez, author of Scarborough
The Prophets by Robert Jones Jr.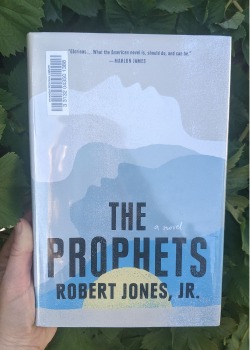 Borrow it:
UBC Library – print
Okanagan Regional Library – print, eBook, Large Print, audiobook 
Description: A singular and stunning debut novel about the forbidden union between two enslaved young men on a Deep South plantation, the refuge they find in each other, and a betrayal that threatens their existence. (UBC Catalogue)
Review: "I've loved the writing of Robert Jones, Jr., for years, and The Prophets is an absolute triumph, a symphonic evocation of the heights and depths of pain, joy, and love."
–R.O. Kwon, author of The Incendiaries

Our Work is Everywhere: An Illustrated Oral History of Queer & Trans Resistance by Syan Rose

Borrow it:
UBC Library – eBook
Description: Our Work Is Everywhere is a graphic non-fiction book that underscores the brilliance and passion of queer and trans resistance. (Arsenal Pulp Press)
Review: "In this collection, Syan Rose has created full, lovely and sensitively drawn portraits of the humans who set the world aright." -Molly Crabapple, author of Drawing Blood, and Brothers of the Gun with Marwan Hisham